– Studied art and wood sculpture with Toshio Odate at Brooklyn Museum.
– Figurative sculpture with Chaim Gross at Educational Alliance in New York City.
– Studied basket making at Peter's Valley Craft Community, New Jersey.
– Graduated Fashion Institute of Technology with a degree in Textile Design.
– Worked with several companies specializing in home fashion fabric.
– Moved to North Carolina with Springs Industries designing fabric by the yard for home sewers.
– Since retirement, I am an active potter and a member of ClayMatters Pottery Guild in Charlotte.
– Member of Waxhaw Arts Council and Piedmont Craftsmen.
– Active docent at the Mint Museum Uptown and Mint Museum Randolph.
WORKSHOPS:
Hayne Bayless, Akira Satake, Mark Hewitt, Suze Lindsay, Nicholas Joerling,
Joyce Michaud ,Daniel Johnson, Sandi Pierentozzi and Neil Patterson.
Attended Potters Conference (2008-2015), Ashboro, N.C.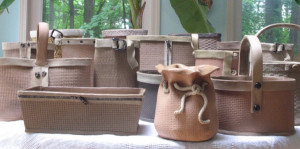 EXHIBITIONS:
– 2017- American Crafts Council, Atlanta
– 2016- Evening of Earth and Fire, Elder Gallery, Charlotte, NC
– 2016- Hillsborough Gallery of Arts Exhibition, Hillsborough, NC
– 2015- Art in the Village, Ballantyne Village, Charlotte
– 2015- Featured Artist in Ceramic Times Magazine – Gallery page
– 2015- Art League of Hilton Head exhibition- Honorable Mention
– 2015- Featured Artist for December in Potters Council Calendar
– 2015- Raleigh Fine Arts Society exhibition
– 2014-   Waxhaw Art Show – 1st prize 3-d
– 2013- ASC grant for Community Supported Art Program
– 2013- Waxhaw Art Show – 1st prize 3-d
– 2012- Doug Helms Memorial Show – Merit Award
– 2008- Red Sky Gallery- teapot exhibition